Acne Scar Treatment in Dayton, Ohio
Acne scar removal & treatment on the face, chest and back
Dr. Gandhi is a top Dayton area dermatologist who has practiced all over the country. He's an expert in treating acne and acne scarring in teens, young adults, and mature adults who've been dealing with acne scars for decades.
You'll find his newly renovated, state-of-the-art facility located in Dayton, Ohio. Because of his specialized expertise, he welcomes many patients who travel from surrounding cities and across the country to see him.
Achieve the results you've been waiting for with our advanced acne scar treatments at Ohio Skin Center.
Dr. Gandhi has a deep understanding of the mental and physical impact that acne scarring has on his patient's day-to-day lives. He's made it his mission to become an innovator in acne scar treatment and acne scar removal so that his patients can move forward living a happy, confident life.
He also specializes in other scar treatment and repair, like surgical scars, traumatic scarring from cuts, burns and keloid scars, and stretch marks.
As a board-certified, double fellowship-trained expert in dermatologic surgery and scar repair, Dr. Gandhi offers the most advanced, safe and effective acne scar treatments.
Finding a scar treatment that works for you
You don't have to feel at a loss for how to treat your acne scars any longer. The mental health effects of acne scarring can be severely detrimental to the school-age years, building relationships and managing work-life interactions.
If breakouts are left untreated, you're more likely to experience scarring. Additionally, as we age, our skin loses collagen, a natural skin plumper, and acne scars appear more prominent.
Dr. Gandhi gets incredible results with his patient-centered, customized acne scarring treatment plans. He knows how overwhelming it can be to sort through all the treatment options, which is why he informs and guides his patients through every step of the process.
Here's how your treatment program will look:

Understanding your skin past and present, he crafts a skincare and treatment regimen that works for You.
Next, you'll work together to clear your skin before treating the scars.
And finally, create a plan incorporating one or more of the skin resurfacing treatments he offers. Many of the laser treatments and peels he offers help improve and clear-up acne while reducing and treating acne scarring.
We treat all types of acne scarring to help you get your confidence back.
Acne scar treatment at Ohio Skin Center in Dayton
Cortisone injections are fast-acting at reducing the size and inflammation of a deep acne pimple. While Dr. Gandhi doesn't use these injections as an all-over treatment for cystic acne, he does use them to target specific large lesions and to shrink the size of keloid scars.
Dermal fillers, are an injectable option to reinflate the dip or indent in the skin that an acne scar can leave behind.
Chemical peels can help reduce mild-moderate acne, reduce redness and improve uneven skin texture and tone. Medical-grade chemical peels help improve damaged skin from acne scarring and are frequently used in conjunction with other acne treatments.
Gently sloughs off top layer of skin to help smooth skin texture and stimulate collagen production for healthier-looking skin. Treats mild acne breakouts and shallow scars.
IPL PHOTOFACIAL (INTENSE PULSED LIGHT)
Intense Pulsed Light Therapy with InMode Lumecca IPL, helps reduce acne and the effects of acne scarring. During an IPL treatment, light pulses penetrate the skin and pigment cells absorb the light turning it into heat. The heat breaks down discolored cells and kills bacteria. IPL works well for hyperpigmentation, discoloration from acne scarring and killing acne-causing bacteria.
A reasonably painless procedure with little-to-no downtime uses tiny needles to penetrate the skin to induce collagen production, even skin texture from acne scarring, reduce redness and discoloration from acne scarring, reduce fine lines and improve skin elasticity.
LASER RESURFACING TREATMENT
The Fotona Erbium Nd YAG Laser, Fraxel Dual, Fraxel Repair CO2 Laser and Syneron CO2RE, are commonly used to reduce acne scarring by drastically improving skin texture and diminishing red scars. They also work to treat inflammatory acne by it shrinking the sebaceous gland, reducing oil production, killing acne-causing bacteria and promoting collagen production, which is essential for improving acne scars. Learn more about our laser resurfacing treatment in Dayton.
WHAT CAUSES ACNE SCARRING?
Acne scarring results from injury or trauma to the skin from an acne lesion (pimple) that was agitated or didn't heal properly. When skin gets injured, it repairs itself by producing collagen, and sometimes it makes too much or too little collagen, leaving an indent in the skin or a raised bump scar. Red spots and brown spots are left behind from residual inflammation leaving lasting, noticeable marks on the skin.
REASONS WHY SOME PEOPLE ARE MORE LIKELY TO HAVE ACNE SCARS
Picking or popping pimples
Not treating acne early on 
UV exposure to acne-prone skin darkening brown or red spots
Inflammatory or cystic acne that wasn't treated by a dermatologist
Genetics 
BOXCAR
Usually round or oval-shaped with defined borders, similar to a shallow, crater indentation in the ground. Caused by inflammatory acne (red, inflamed and/or pus-filled pimples), boxcar scars are common and respond well to microdermabrasion, microneedling, laser resurfacing, fillers or subcision (dermatologic surgery).
ROLLING
Like rolling, shallow waves across the surface of the skin, when pulled tight, they're barely noticeable and often caused by inflammatory acne. Treatment for rolling scars are microdermabrasion, chemical peels, microneedling, laser treatments and fillers.
ICE PICK
Deep pin prick looking scars usually caused by cystic acne. They get their name because they look like a sharp ice pick has pierced the skin. During the healing process, the skin closes in on itself, causing a deep pit. Hardest to treat, ice pick scars are treated with medical-grade chemical peels, laser resurfacing and dermatologic surgery.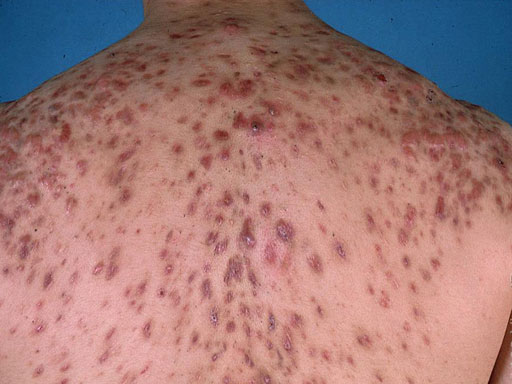 RAISED SCARS (KELOIDS)
While the skin is healing from an injury, keloids may form from the overproduction of collagen. They look like discolored raised mounds. Keloids are stubborn and sometimes need a combination of treatments, like a cortisone shot to shrink them, excision to remove them or cryotherapy.
DARK SPOTS (HYPERPIGMENTATION)
Dark spots, red spots and brown spots left behind from healed acne lesions can make you feel insecure and frustrated from having to cover them up with makeup.
Hyperpigmentation from acne is caused by lingering inflammation from acne lesions. It usually looks like purple, brown or red discoloration on the skin. It's worse in people with darker skin tones. While it will fade over time, it may take a while and can worsen from UV sun exposure. Treatments for hyperpigmentation are topical medications, IPL (intense pulsed light), chemical peels, laser treatments and microneedling.
If you're looking for a dermatologist in the Dayton area, Ohio skin center is here to help.